International letter with perfin "C.O." in the stamp. The letter is franked correctly with 30 øre, which was the rate for international letters from  November 1st 1933 to June 30th 1940. The stamp is cancelled November 11th 1936 with TMS Nr. 28.1 Odense ***
C 50 A/S Chr. Olsen Frøavl og Frøhandel
Chr. Olsen
Vandværksvej 18 – 20
5000 Odense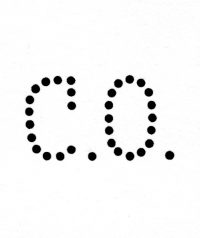 "C.O." has been seen used in the period from March 1916 to February 1940
Green indicates the Perfin position on the current item.
Founded as a commercial garden on December 1st. 1862 by Chr. Olsen (b. 1842, d. 1914).
In 1902 taken over by the sons, Chr. Olsen (b. 1870, d. 1943) and Axel Olsen (b. 1872, d. 1948).
In 1919 transformed into a public limited company with the latter two as directors respectively. 1943 and 1948.
In 1936, Chr. Olsen's son, Chr. Børge Olsen (b. 1906) on the Executive Board; he has been sole director since 1948.