Domestic letter with perfin "C.S." in the stamp. The letter is franked correctly with 20 øre, which was the rate for domestic letters from  June 1st 1940 to May 31th 1950. The stamp is cancelled December 11th 1946 with TMS Nr. 116.8 København OMK.
C 53 Carl Stenders Kunstforlag A/S
Carl Stenders Kunstforlag A/S
Berstorffsgade 23
1500 København V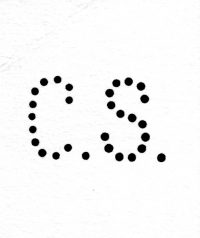 "C.S." has been seen used in the period from April 1907 to October 1977
Green indicates the Perfin position on the current item.
Carl Stenders Kunstforlag A / S was a Danish publishing company that today is part of a larger Swedish company. The company today mainly publishes cards, gift papers and the like, but also picture books and other children's books
The company was founded in 1888 by Carl Stender (1862-1902) under very modest forms such as trading a wholesale of pictures and maps. The company was converted into a public limited company in 1899. The company included former art and card publishing houses, a reproduction facility, printing press, letterpress and copper prints and bookbinding. All these companies belonging to the publishing house were housed in the firm's property, Bernstorffsgade 23 in Copenhagen, built in 1917. In the same year, the art publisher P. Ipsens took over the widow.
The publisher Carl Stenders Kunstforlag was acquired in 1995 by the Swedish company Pictura, where it is now part of the Pictura group under the name Stender Pictura A / S. In 2010, it changed its name to Pictura A/S and moved to Herlev.
The Board of Directors in 1950 consisted of Attorney General Johan Schrøder (b. 1888), Attorney General Poul Groes (b. 1883), Attorney Erik Becker (b. 1895) and Director Curt Stender. The CEO of both companies was from 1946 Curt Stender (b. 1905).